Scalable
Intellimax Enterprise Analytics provides all the power of our desktop clients from the browser. This fully scalable HTML5 web application gives consistent, quality reporting to all users throughout your organisation.
Device Independent
Both touch and non-touch are native environments for Intellimax Enterprise Analytics ensuring flexibility to access all your corporate reporting from any device with internet access. View reports from your PC, iPad, iPhone and most other tablet or mobile devices.
Comprehensive BI Capabilities
Experience the very latest in Enterprise BI capabilities including full drill down/across/through/into, with KPI's dashboards and business scorecards together with a vast array of visualisations including interactive grids, charts, maps, KPI's and scorecards.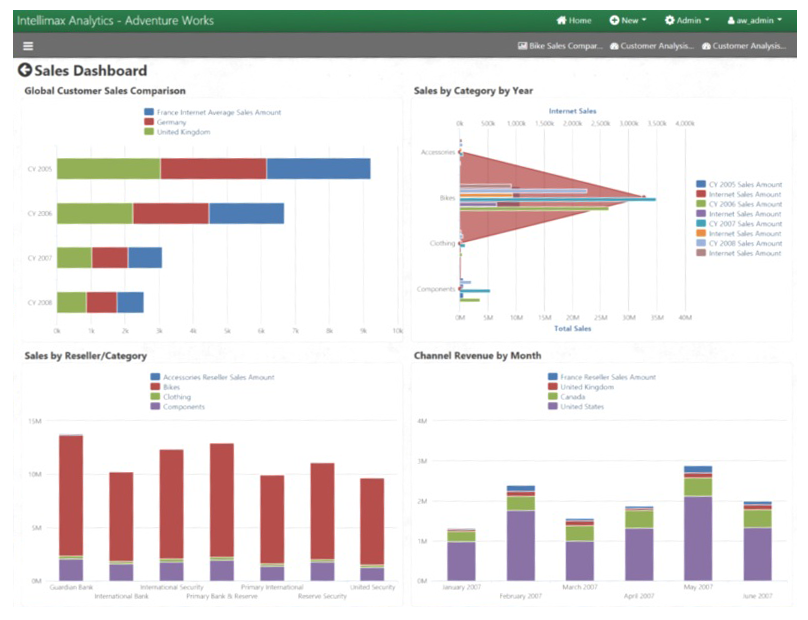 Enterprise Analytics
Dashboards
Our Enterprise web platform provides comprehensive OLAP analytic capabilities with zero install from the freedom of any web browser. This is further extended by the concept of executive dashboards, ensuring that critical information is front and centre and ready to be actioned.
Dashboards can contain any combination of tables, charts, KPI's, HTML and other widgets ensuring comprehensive content and ease of use for all types of users, from operations staff through to executive management.
Show me more...
Contact us now to see how Intellimax Enterprise Analytics can transform your business
Get In Touch